Gallery
| | | |
| --- | --- | --- |
| | The Breton Folk Dancing Group visited us recently Very successful and enjoyable visit | |
| | | |
Choir at wedding on 22nd December 2018
at Church of St Peter & St Illtyd, Llanhamlach, Brecon

Alun Caffrey conducts the choir
at the St Donat's Church Fundraising evening.

At the piano on the left is Andrew Chinnock, our exceptionally talented accompanist, and the young lady is our guest artiste Stevie Fedyszyn
The choir visited Trafalgar Care Home in Nelson where they gave a great performance!

Both residents and staff joined in the singing of some of the songs and the choir were asked to return at Christmas.




The choir sang at Tonteg which was the start of our Chritmas events. They sang traditional carols and the audience was invited to choose a carol and we all joined in.

We were beyond excited when we realised we had a special
guest accompanist in Santa himself!! As you would expect
it was a brilliant performance!




Our guest Artist was Stevie Fedyszyn, a lovely 18 yr old who played clarinet and saxaphone.

However, the surprises kept coming!!!

Abigail and Mason asked if they could sing a verse on their own - which they did superbly and brought the house down!!
A cold and wet day did not deter the crowds or those participating in the Wreath Laying Ceremony At Abercynon Cenotaph.

It was very well attended and the Choir had their own wreath layed by Bert Hill.

Guests of the Choir included Paul and Deb Usher with their son Kairan

The Choir were invited to sing at Sainsburys, Colchester Avenue, Cardiff on Saturday, 10th October 2015.

The occasion was a fundraiser event for the George Thomas Hospice in Cardiff.
The Ladies Supporters of the choir held a
Pampering Evening which was a great success

A Very Special Occasion

Founder member of the Choir, Danny Currie, had a very special visitor recently. His daughter flew over from Australia!

To mark the occasion, Danny's family gathered around him whilst the choir entertained them.

Danny being the stalwart he is joined in wth the singing.
Saturday, 1st August 2015 - Rededication of Abercynon War Memorial Pool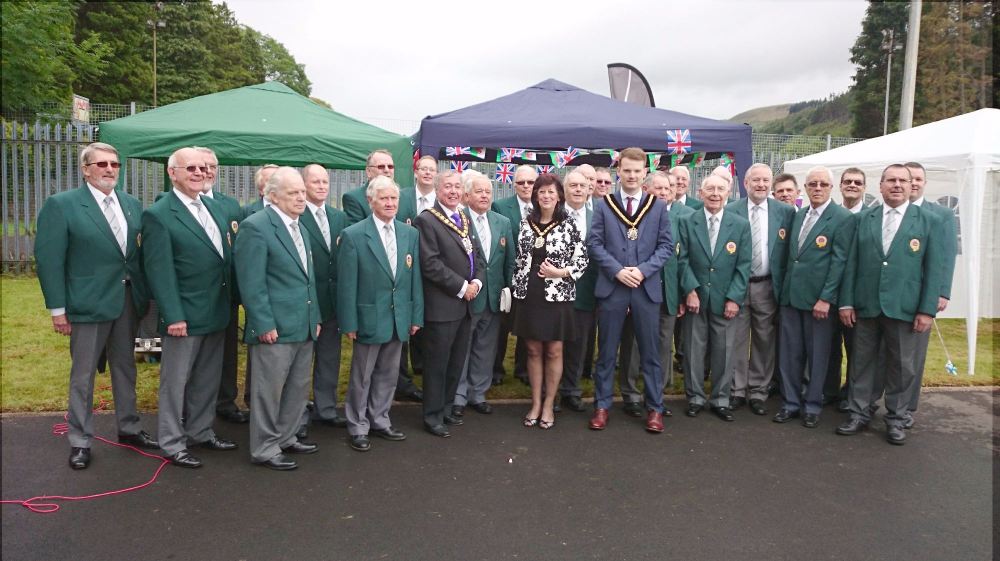 RCT Mayor, Barry Stephens, his wife, and RCT Deputy Mayor Rhys Lewis
with the choir whilst the crowd looked on.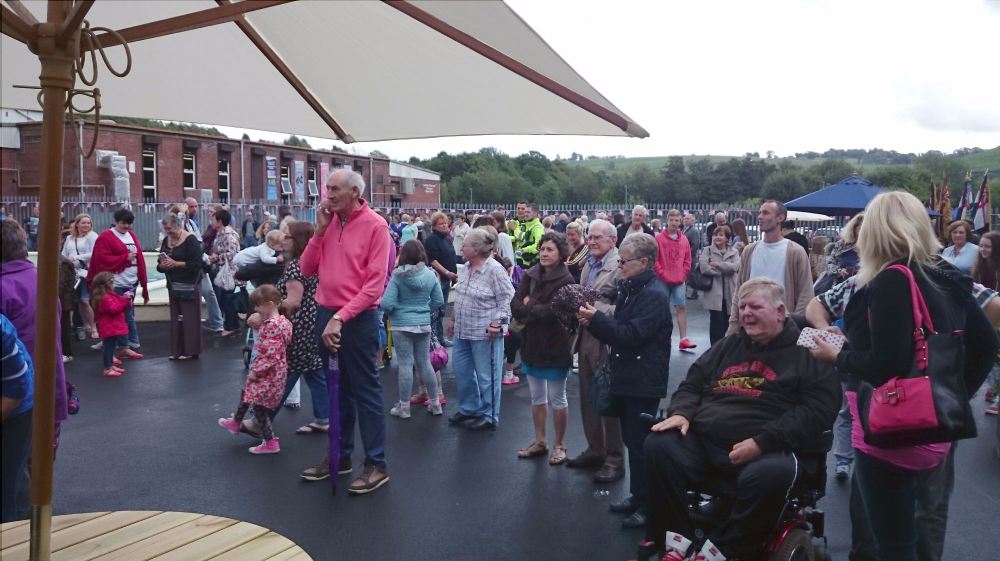 Visitors from afar at Wednesday's rehearsals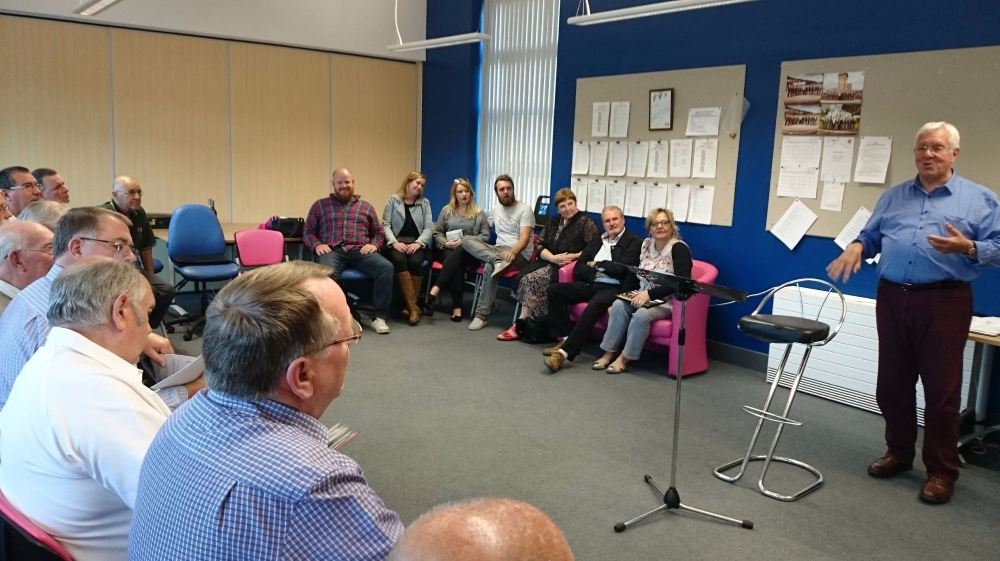 Alun Caffrey conducts the choir whilst our visitors look on. On Alun's left is Sandie, her husband Tony, and sister Lyn. Sandie used to be the choir's accompanist before she emigrated to Canada. On the left of Sandie's group are Bethan and Rhys, the bridal couple, accompanied by their friends also from Canada.
Hiding amongst the choir was John Rossiter from Australia. John is brother to Linda and brother-in-law to chorister, Garath Davies. (John didn't sing apparently!)
A very enjoyable evening for everyone involved!
Happy Birthday, Bert!

At the Annual Concert our President, Alun Caffery presented an inscribed hand painted plaque to our retiring Secretary,
Bert Hill, in recognition of, and in
gratitude, for the many years of service
he has given Côr Meibion Abercynon
The choir held their
45th Annual Concert
at
St Donat's Church, Abercynon

Left photo shows choir
and audience and the
photo on right shows
RCT Mayor and Mayoress,
Cllr Barry and Barbara Stephens
with Deputy RCT Mayor,
Cllr Rhys Lewis



There were three guest artistes




who performed brilliantly!



At left is Jonathan Polson who


regularly plays with the choir.



In the middle is Phillip Gregory,


classical guitarist and a member




of the choir.



On the right we have Holly Davies


a young lady with a beautiful voice.



Pat Morgan, Compere, and


artistes were presented




with gifts from the choir.



Another anniversary was celebrated
that night:

Chairman, Justin Kettle and wife Janice
celebrated their Ruby Wedding!

The wives and friends of the choir,
together with the ladies of the church,
provided nibbles and drinks afterwards.

Our grateful thanks to them as always
and many congratulations to
Justin and Janice.

(Photographs courtesy of Stephanie)
On Friday, 24th April 2015 the Choir were invited to All Saints Church, Cyncoed, for a charity event.The church was fundraising for Llanishen Good Neighbours and Crohn's & Colitis UK.The Choir were "fantastic" and"look very smart" - comments made by a chorister from another choir!! They thoroughly deserved the standing ovation at the end of a superb performance!

(Photograph courtesy of Stephanie)





| | |
| --- | --- |
| | |
| | |
| --- | --- |
| | |
Choir with First Minister, Rt Hon Carwyn Jones, at Cardiff's City Hall

Re-opening of newly furbished Abercynon Social Hall took
place on Saturday, 30th August 2014.

Abercynon Fire Brigade turned up in style to the delight of everyone!

There was a Zumba display, Cor Meibion Abercynon sang, and tables with information on community events and services available.

The evening of Saturday, 30th August was taken up with a private function to celebrate the wedding of James & Lisa Kettle. James is the son of Côr Meibion Abercynon Chairman, Justin Kettle and his wife Jan.

As you can appreciate the evening was filled with music, fun and laughter. We wish the happy couple a long and happy marriage!
Our thanks to Stephanie for the photo montage.


The photograph on the left shows the
Choir at Garwnant Visitor Centre


for a private function on




Saturday, 16th August 2014.

Re-dedication of The Mining Memorial
Thursday, 24th July 2014


Wonderful Ceremony : Moving & Interesting Speeches
and well organised by Rhian and Bernie from RCT

We had a wonderful evening at Salem Church, Nelson last Friday.
Our Choir was in fine voice, but the stars of the show were
the children from Ystrad Mynach school and their
Headmaster, Jonathan, who joined them when they
were singing and signing!

The Mayor & Mayoress of RCT and David Maddox OBE were

the Choir's invited guests, along with John Edwards of Talk Tidy fame

Standing Room Only & Standing Ovations at Annual Concert!

We knew it was going to be good - but not THAT good! The Choir, with the Tonyrefail Ladies Choir, Cameron Lewis and Ash Morgan, performed to a packed house last night! Even the Vicar had to sit on the floor in the lobby and said she had never known the church so full!

Young Cameron Lewis had a standing ovation for his performance but didn't stay long enough for this photo!

What a night!!

Tonyrefail Ladies Choir

Both Choirs were conducted by Hannah Mitchell who rehearses both of them regularly - it's a tribute to Hannah's gentle, but strong direction that both choirs were a success individually and collectively last night

Cameron performs two classical pieces

Ash Morgan sings to a hushed audience

Wedding at Castle Coch

On Friday, 4th April 2014, the Choir sang at Castell Coch Tongwynlais, for choir member, Huw Williams and his wife, Glenys - shown here with the Choir. Huw and Glenys were awaiting the arrival of their son, the bridegroom.

CHALLENGE ELLIS

The fundraiser was held in Tonteg Community Centre
last week and raised a substantial amount of money for Challenge Ellis.

Photo shows from L-R
Julie Ward (Ellis' Mum), Justin Kettle, Hannah Mitchell,
Alun Caffrey and Greg Ward (Ellis' Dad).

ASDA Merthyr invited Choir back for Fundraiser
Friday, 28th February 2014

The Choir with Carolyn Robertson (Web Manager)
Nerys Golding-Hann (ASDA Co-Ordinator)
Hannah Mitchell (Musical Director)
Jonathan Polson (Violinist)
and Andrew Chinnock (Musical Accompanist)

The Choir in full voice at Trevethick Trail

Charity Event at ASDA Aberdare
on St David's Day
Cameron Lewis, 9 yr old, stuns choir and public
with superb performance of classical music.

Proud grandfather (with camera) is Keith Rosser

Carols by Torchlight

The choir was invited to join the Abercynon Community Primary School choir for Carols by Torchlight. Due to inclement weather the event was held in the School Hall. Thanks to the Head Teacher, Mr Damien Jewitt, for permission to reproduce photograph.

Light for Life

14th December 2013

St Davids Centre, Cardiff

The Choir sang Christmas Carols

from 2.00pm til 4.00pm