Please see EVENTS section for further dates booked

If you wish to book the choir for your own event then please contact
Carolyn Robertson

07968394778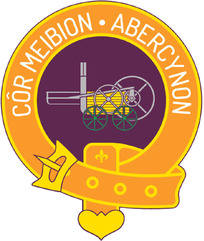 NEW MEMBERS WELCOMED
The Choir always gives a warm
welcome to new members
so why not join us now?
We rehearse upstairs in
the New Library Block,
Ynysmeurig Road, Abercynon on
Mondays & Wednesdays
7pm until 8.30pm.
YMUNWCH Â NIAELODAU
NEWYDD (cantorion)
Cynhelir ymarferion wythnosol yn y Llyfrgell Newydd,
Heol Ynysmeurig, Abercynon ar ddydd Llun a dydd
Mercher o 7.00 y.h. tan 8.30 y.h.
(heblaw am wyliau banc a gofunedau
The President's Cup will be awarded
to the pupil showing the most
improved in the Performing Arts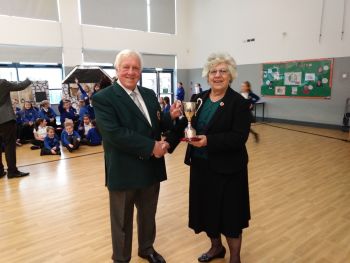 Carolyn Robertson presents
President Alun Caffrey with the
Cor Meibion Abercynon President's Cup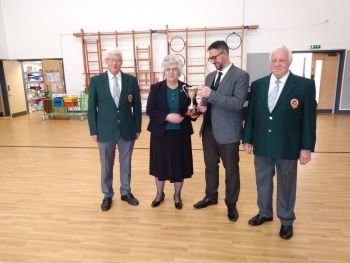 Damion Jewitt (Headmaster, Abercynon School)
Check out our "Comments Received"
Under present circumstances please direct any enquiries to
Carolyn Robertson - 07968 394778 : [email protected]
It is with deep regret we have to announce the passing away today of our Vice President and loyal supporter of the choir, ex Councillor Alby Davies. He will be greatly missed by all all choir members and friends. Our sincere condolences to his family.
50th Anniversary of Cor Meibion Abercynon
Due to current circumstances we are unable to
celebrate our Anniversary together something we
were all looking forward to. But an enterprising
and strong supporter of our choir has designed
and donated the mugs shown below: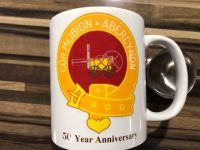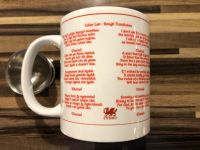 The logo on the front with the words of Calon Lan
on reverse in both Welsh and English.
The choir members are extremely grateful to the
anonymous person who created and donated these
mugs - and we will certainly raise a glass or mug
to the donor when we meet again... diolch yn fawr!


IMPORTANT NOTICE
Choir Committee met today and it has
been decided, for health and safety reasons,
to postpone all rehearsals and
upcoming events for the immediate future
We very much regret having to come to
this conclusion but given the unhealthy situation
we hope you will understand our decision.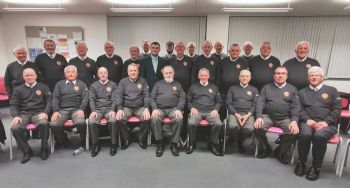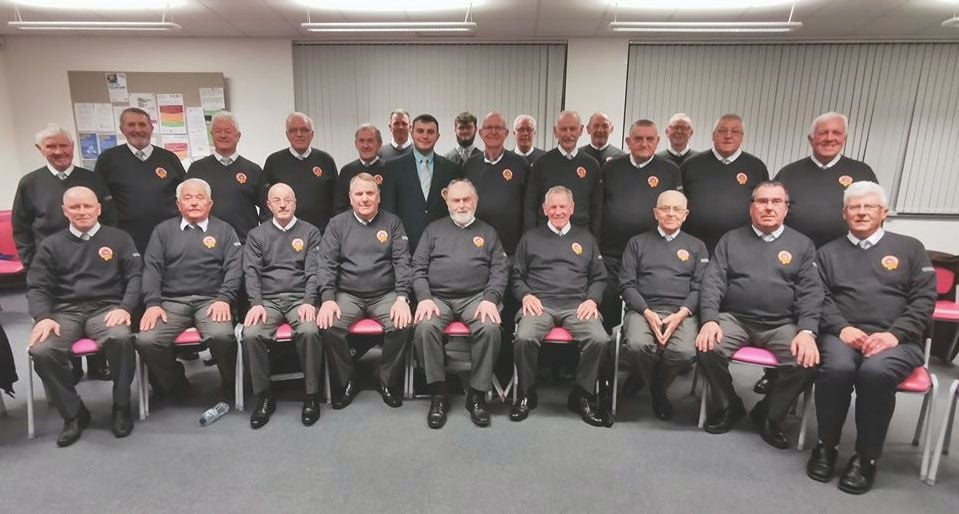 We welcome new members
If you enjoy singing then come to one of our rehearsals
in the New Library Block, Ynysmeurig Road, Abercynon on
Mondays & Wednesdays 7pm until 8.30pm
e sing a wide range of music drawn from traditional
Welsh melodies, shows and musicals to popular music.
We are a charity and support other charitites and
charitable organisations in the area.
We normally perform approximately 7 concerts a year,
also weddings and corporate events.